Realtors
Our reputation is of the utmost importance to us. That's why we go above and beyond to protect not only ours, but also your, professional integrity. Our inspectors will always come properly dressed with all the tools they need to complete the inspection and protect the property. They will always remove their shoes or wear shoe covers while inside the property and leave the property in the same condition they found it in.
One of the things we do to provide the best possible service for your client is to use only state of the art equipment. We have teamed with Radalink to ensure our radon testing is the best available. It may be slightly higher in cost, but our continuous monitors measures not only Radon levels, but also temperature, barometric pressure, humidity and tilt on an hourly basis. This way we know if the equipment or the environment has been tampered with resulting in inaccurate radon measurements. Click here for more information about our Radalink state of the art measurement systems.
While we have many services that we offer to provide your client with the best possible experience, we also offer a few things that provide peace of mind and help you deepen your relationship with your client.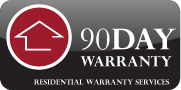 Our 90-Day Home Warranty, with a zero dollar deductible, means if something we inspected stops working or breaks shortly after your client moves in, they are covered. Click the image above for details.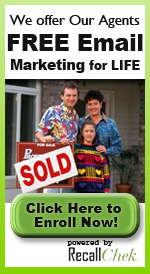 Our Recall protection for life program, will notify your client if any of their appliances have been recalled due to a fire or safety hazard.
If they make a new purchase, they can also update these appliances at any time. During the inspection we will capture model numbers from a couple of appliances and enroll them into the RecallChek system. 14 days after the inspection, your client will receive an email informing them of any potential recalls on those items. We chose to deliver this report 14 days after the inspection so that if any of the appliances are on a current recall, they will not be confused with home inspection items which may make the negotiation process more cumbersome. Manufacturers are required to repair or replace recalled items free of charge.
Your client will also receive a monthly news letter which is their portal to log into the RecallChek system to enter up to 100 appliances. If you will send us your head shot, logo and contact information, this newsletter will be branded with your information at the top and our information at the bottom. Or, you can click the graphic to the right, upload your information, and all future news letters will be branded with your information. Click here to see a sample newsletter.
After every inspection, we will mail you a set of Return Address Labels and Postcards for your client. We will brand these labels & postcards with your name and NOT ours. It's our way of saying thank you for trusting us with your clients and helping to deepen your relationship with your client!
We provide your client with a free enrollment in the Home Owners Network. They can ask an expert any question and get the right answer right now! They simply submit a picture through the HON website or exclusive phone app and will be connected to a panel of experts who can answer any question about their home. HON is the only LIVE technical support for the home. Also included with this membership is access to pre-screened contractor referrals and exclusive discounts on many products and services.
Escrow Billing is an important service we offer on select services. If your client is trying to conserve cash flow during the real estate transaction or has closing costs to spend, we have the solution for you! If your client takes advantage of our deferred Escrow billing service, we will send our invoice to the title company who will withhold funds on the HUD-1 statement at settlement. A few days later they will send us a check. It's that simple! This service may incur additional fees.